Majestic second half powers Kadetten past Skjern
Skjern were on their way to a fourth win in five games in the VELUX EHF Champions League 2017/18, but their impressive attack was limited to only seven goals in the last 20 minutes. This allowed Kadetten to snatch a stunning 25:24 win against the Danes.
The two sides are tied at the top of Group C with six points, as Gorenje Velenje are now waiting to leapfrog them if the Slovenian side can avoid defeat against Elverum on Sunday.
Gabor Csaszar scored nine goals for Kadetten, the Swiss side's best scorer
Skjern host Kadetten during the first weekend of November
GROUP C
Kadetten Schaffhausen (SUI) vs Skjern Handbold (DEN) 25:24 (9:13)
Kadetten acknowledged that they needed an engaged defence for 60 minutes if they were to win the game. While they did manage to slow down Skjern in the first half, it was not enough, as the Danish side were looking at another victory.
With left back Markus Olsson again in superb form, scoring five goals in the first 30 minutes, the Danish side took their first lead in the 12th minute. A 5:2 partial to finish off the first half saw Skjern enjoy a four-goal cushion (13:9) at the break.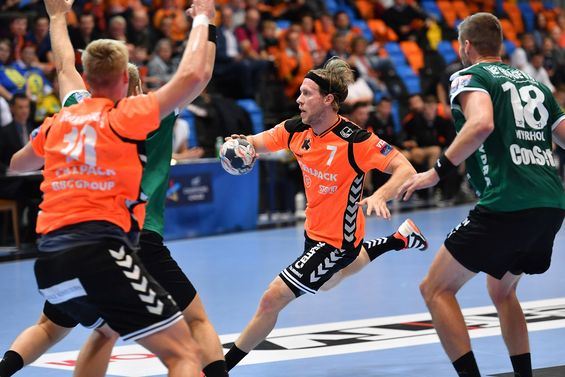 As Kadetten struggled with their attack, boasting a 45% shot efficiency in the first half, Skjern boosted their lead to six goals (17:11) and looked increasingly likely to snatch another win.
But a 7:3 partial from Kadetten, spurred on by veteran Gabor Csaszar, brought the Swiss side back into the game with 12 minutes to go.
A total meltdown for Skjern's attack, where Olsson and veteran Anders Eggert missed shot-after-shot, brought Kadetten closer to the win, and the hosts sealed the deal with Csaszar scoring four of the Swiss side's last five goals.
The 25:24 win means that Kadetten are level with Skjern on six points at the top of the group, with Skjern eyeing their revenge in the first week of November.
"It's incredible! But that is sport. Skjern was very tough in defense and I'm very happy about this victory," said Kadetten's Peter Kukucka.
"In the 2nd half we missed eight or 10 chances and we couldn't control Gabor Csaszar. We have to work on," said Skjern coach Rene Rasmussen.
Author: Adrian Costeiu / ap