Elverum take coaching development to a new level
Elverum Handball broke new ground on Sunday in their VELUX EHF Champions League match against Orlen Wisla Plock.
However, it has nothing to do with to the fact that they managed to put their Polish visitors under pressure in the dramatic Group D match, which Plock eventually won 30:28.
In fact, the innovation was that someone besides the Elverum players had the opportunity to listen to what their head coach Mikael Apelgren was saying during the game.
Those who watched the match in the Terningen Arena or on TV would have noticed Apelgren wearing a microphone throughout the match.
This might have led some people to assume Elverum's Swedish head coach was discussing the match with someone in the stands, but this was not the case.
Apelgren's words were transmitted to someone in the crowd, none other than Norway national coach Christian Berge.
However, Berge had no chance to give Apelgren any advice, as the device only allowed one-way communication.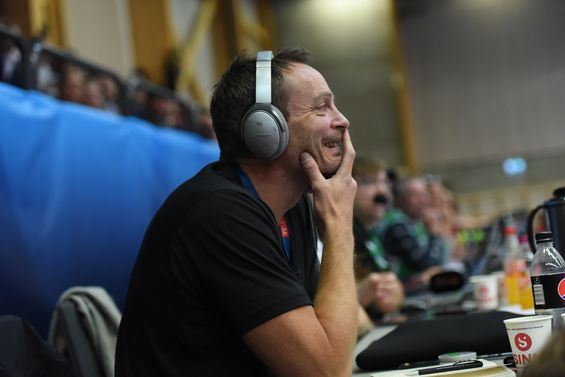 Feedback from Berge
The idea was the Christian Berge would listen to Mikael Apelgren's words from the bench as well as during team timeouts.
"I have been working closely with Christian Berge for quite some time now.
"As many people will remember, Berge was the one, from whom I took over as head coach in Elverum, and as we both live in such a small town like Elverum, it is only natural that we talk a lot about handball," Mikael Apelgren explains.
"This was a new way of doing at and a way of extending our cooperation, so to speak, as the fact that I was wearing a microphone gave Christian Berge an even better chance to sense the pulse of the game as well as get a close impression of how I coach my team during the match.
"It is important for me to emphasise, however, that I could not get any advice from Berge during the match. It was strictly one-way communication from me to him.
"He and I will sit down and evaluate the impression he got through his head set.
"I am already sure, however, that this is something we are going to do again.
"To me, it is a further step in developing as a coach.
"Being a coach, you cannot demand that your players develop, if you do not develop as well, adds Elverum's Swedish head coach.
Fans at the press conference
However, this was not the only innovation around the match between Elverum and Plock
For the post-match press conference, the fans were given access to watch and listen to the statements from coaches and key players from the respective teams.
"That was a great success. There were really many fans watching and listening it, so I am sure we are going to repeat this as well in the future.
"All in all, it was a fantastic evening, apart from the result, which was decided by very small factors," concludes Apelgren.
Author: Peter Bruun / cor