Metz clinch quarter-final berth with thrilling win against THC
With three matches left in the main round, Metz Handball became the second Women's EHF Champions League quarter-finalists from Group 2, following HC Vardar into the next stage.

After their away win against Thüringer HC on Sunday afternoon, the French champions have 10 points. Neither THC nor Bietigheim, who both sit at the bottom of the group with two points, can pass them on the table.

• Metz move into second place in Group 2 with 10 points
• THC count only two points – the same as fellow German team Bietigheim
• Iveta Luzumova scores 12 goals for Thüringer; Xenia Smits nets 10 times for Metz

GROUP 2
Thüringer HC (GER) vs Metz Handball (FRA) 29:31 (14:15)

The two sides met for the third time in European cup competitions, after exchanging home victories in last season's EHF Champions League Main Round. On Sunday, Metz were seen as favourites to win the clash, and the French side made their fans happy by living up to those expectations and claiming the two points.

It was an extremely tight battle from the opening minute. Though the top scorer of the competition, Iveta Luzumova, succeeded in breaking up Metz's reputable defence, the visitors were slightly more efficient in attack.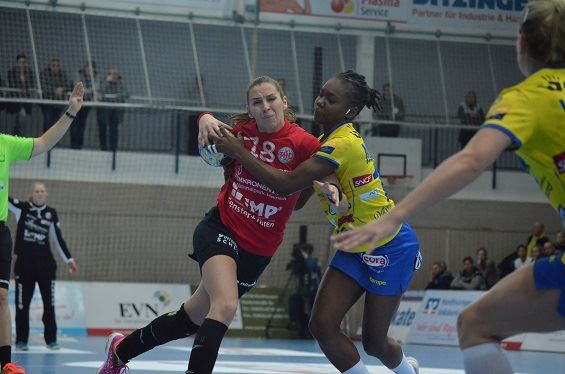 Metz took the score from 10:10 to 14:11 with five minutes left in the half, but THC managed to minimise the gap before the break.

Metz restored the three-goal lead early in the second half, before the home side improved their defence and punished the visitors for their mistakes, taking a 24:23 lead.

Overall, the French champions were not at their top level, but they did not panic and reclaimed the upper hand in the closing stages of the match.

Xenia Smits, who finished the game with 10 goals, was well-supported by recently crowned world champions Manon Houette and Grace Zaadi in particular.

THC could have improved their chances of progression with a victory, and they bravely fought until the last minute to do so. However, when Laurisa Landre scored her second goal of the game 30 seconds from the buzzer, Metz secured the win and with it their second straight quarter-final berth.
Author: Sergey Nikolaev / cg