Eight teams vie for two Champions League spots
Last season SG BBM Bietigheim made an impressive debut in the Women's EHF Champions League. The German side made it beyond the group matches as they qualified for the main round.

No wonder that Bietigheim are eager to start another adventure in Europe's premium club competition in women's handball.

In each group, one ticket to the group matches is at stake

Bietigheim are one of the eight teams competing in the two qualification tournaments on 7-9 September. For each tournament one ticket to the group matches is at stake.

The draw for these qualification tournaments takes place at the EHF Office in Vienna on Wednesday, and can be followed live on on the EHF Champions League Facebook page and the ehfTV YouTube channel.

The eight teams have been divided into four pots, so from each pot one team will be drawn into Group 1 and the other into Group 2.

Both groups consist of two semi-finals (Pot 1 team vs Pot 4 team, and Pot 2 team vs Pot 3 team) and a final, with the two ultimate winners joining the 14 teams already seeded for the group matches. The draw for those group matches will be conducted at the Erste Campus in Vienna on Friday.

Podravka only former Champions League winners in the draw

Bietigheim are sharing Pot 1 with SCM Craiova. The Romanian side had an amazing run in the EHF Cup last season, and they lifted the trophy after winning the quarter-final, the semi-final and the final each by just one single goal on aggregate after two legs.

The opponents for Bietigheim and Craiova will come from Pot 4, which includes Spanish champions Super Amara Bera Bera and Serbian title winners ZORK Jagodina. Bera Bera returned to the national throne last season by winning their fifth title in six years. And Jagodina won their maiden title, having previously finished runners-up five times.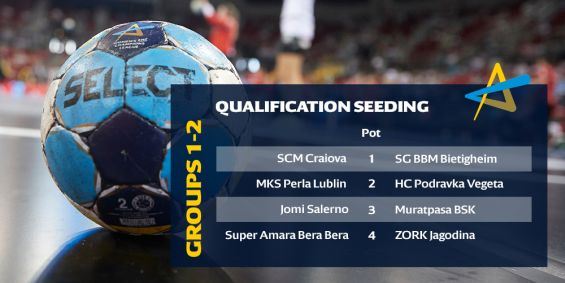 Pot 2 contains last season's Challenge Cup champions, MKS Perla Lublin from Poland, as well as the only former Champions League winners in the draw, Podravka Vegeta from Croatia, who won the coveted title back in 1996.

Those two teams will each meet an opponent drawn from Pot 3: either two-time reigning Italian champions Jomi Salerno or Muratpasa BSK, who won their fourth Turkish national championship last season.

All matches in a group will be played at the same venue. The two teams awarded the right to host their qualification tournament will also be drawn on Wednesday.
Author: EHF / ew